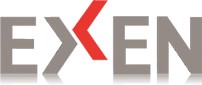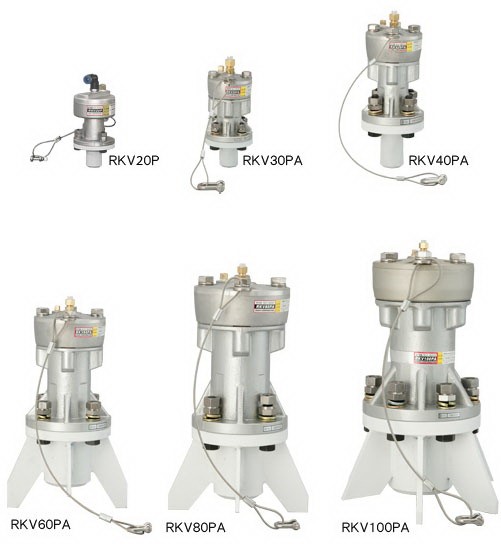 EXEN RKV SERIES (INDIRECT TYPE) AIR KNOCKER
The Exen AIR KNOCKER is a pneumatic flow aid device used to solve problems such as bridging, ratholing, arching and wall adherence. The units utilize a piston powered by compressed air which strikes the knocker's base and the force of the impact is transferred through the hopper wall. They prevent adhesion and blockage of bulk material in hoppers, silos, chutes and convey pipes. The units do not require any lubrication and are very economical in terms of air consumption. The basic function is similar to a hammer strike, however the indirect impact force of the air knocker does not cause any damage to the hopper wall and is a much safer alternative.
Adjustable Impact force
The impact force of the units can be changed by simply adjusting the supply air pressure. Lowering the air pressure also reduces noise.
Relay knocker's operation principle
(1) The compressed air flows into the knocker valve chamber, depresses the valve, and becomes stored in the accumulator.
(2) When the air in a valve chamber is exhausted, the compressed air in the accumulator moves the mushroom valve upwards.
(3) Once the mushroom valve moves, the compressed air in an accumulator forces the piston downward causing it to strike the knocker base.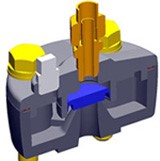 Cross Section of Valve Chamber
Relay piping
The AIR KNOCKER also features a relay piping function in which two or more sets can be operated simultaneously while using a single control panel. Exen's AOC-1B Air controller can operate up to three sets of knockers. The units can also be operated using a solenoid valve and tied into a PLC.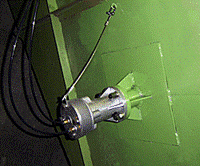 RKV Installation Example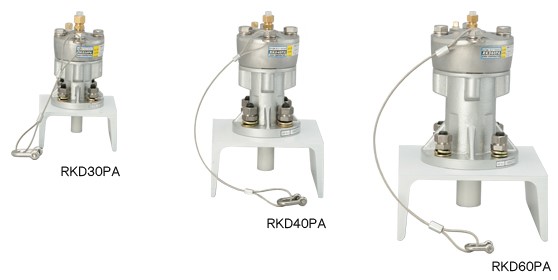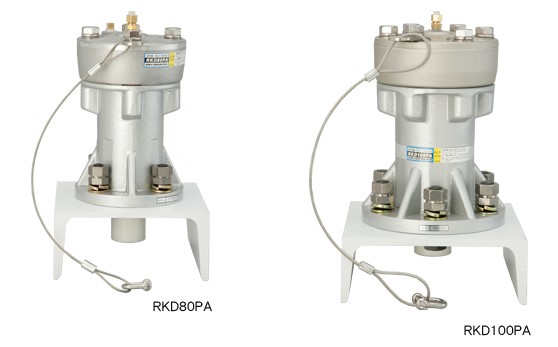 EXEN RKD SERIES (DIRECT TYPE) AIR KNOCKER
Exen also offers a direct impact AIR KNOCKER product line. The direct impact air knockers are typically used for rotating applications (such as a drum) or when the AIR KNOCKER cannot be welded to what it is striking. The RKD series has the same operational principles and relay piping function as the RKV series.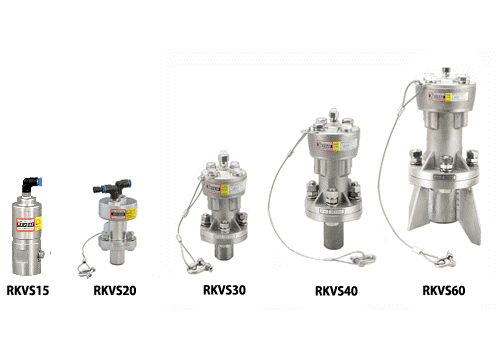 EXEN RKVS SERIES (STAINLESS STEEL / INDIRECT TYPE) AIR KNOCKER
Exen offers a series of stainless steel AIR KNOCKERS in sizes ranging from RKVS15 through RKVS60. These units are suitable for the food, pharmaceutical, and chemical industries or other sites that require corrosion resistance or wash down cycles. The operation principle and relay piping function are the same as the standard RKV knocker series.
Clean Room Environment
The exhaust air exiting the AIR KNOCKER can be made to discharge out of a clean room through an extended air tube. If an extended air tube cannot be used, Exen can provide an exclusive filter as an option.
For additional information on Exen's AIR KNOCKER series or to view additional flow aid devices that Exen manufactures, including pneumatic and turbine vibrators, please follow the below link to Exen's home page.